Come and truly experience Okanagan Lake on one of our popular dinner cruises, Sunday though Friday during the months of July and August. This two hour Sunset Cruise will tour you around City Park, under the William R. Bennett Bridge, around the south side of the bridge with views of spectacular homes and vineyards, and back through the bridge for a picture perfect shot of the cityscape illuminated by the glow of Kelowna's lights**.
A Sunset Cruise on the Lake Lounge or The Boardroom is a great change to the standard date night for locals, or an entertainment must-do for out-of-town tourists!
Meal Information
Kelowna Cruises offers an exceptional buffet dinner with your choice our feature entrées and gourmet sides. Dinner can be ordered until 15 minutes prior to the end of the cruise and vary in price between $22 and $28. Public Dinner Cruises sail Daily. 5:30 – 7:30pm (*Check dates at time of booking)
Entrées

Wild BC In Season Salmon
BBQ Chicken
Alberta Sirloin Steak
Sides

Caesar Salad
Pasta Salad
Roasted Potatoes
Fresh Buns
Times & Fares
Sailing Times
5:30pm – 7:30pm

Cruise (Meal Extra)
Adult (13+): $79.00/ea
Kids (7-12): $40.00/ea
Kids (6 & under): $15.00/ea

Meals
Adult (13+): $23.00-$29.00/ea
Kids (7-12): Options available
Kids Menu (6 & under): $15.00/ea
Entertainment
Sunday
Mick Cretney
(Do you like Jack Johnson? You'll like Mick!)

Monday to Thursday
Jon Bos
Fine Print
24 Hour Cancellation Policy – Cancellations or changes to your booking are required 24 hours prior to sailing or you will be charged for the full amount
Any cruise may be cancelled at any time due to lack of demand and / or poor weather (i.e. heavy wind)
Exact route may vary depending on weather/winds.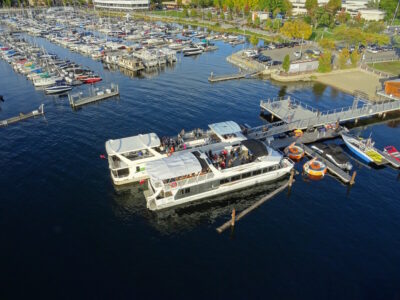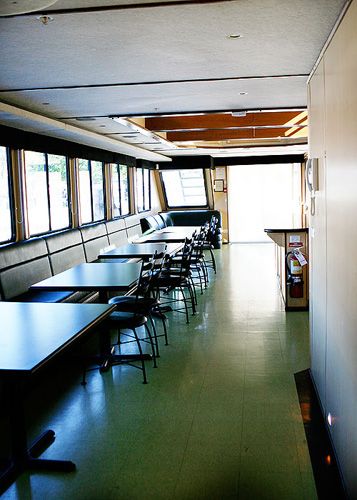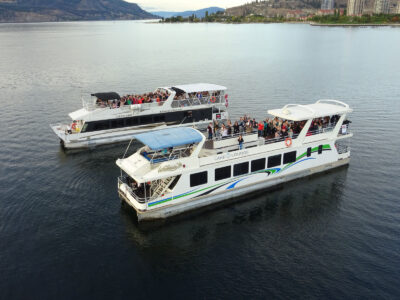 Kelowna Cruises is home to two event cruise and tour boats, The Boardroom and The Lake Lounge on Okanagan. These vessels are the only Transport Canada and Kelowna Fire Department fully inspected passenger boats on Okanagan Lake. Come check out our boats and enjoy the beauty of the Okanagan Valley from the water.
The Lake Lounge on Okanagan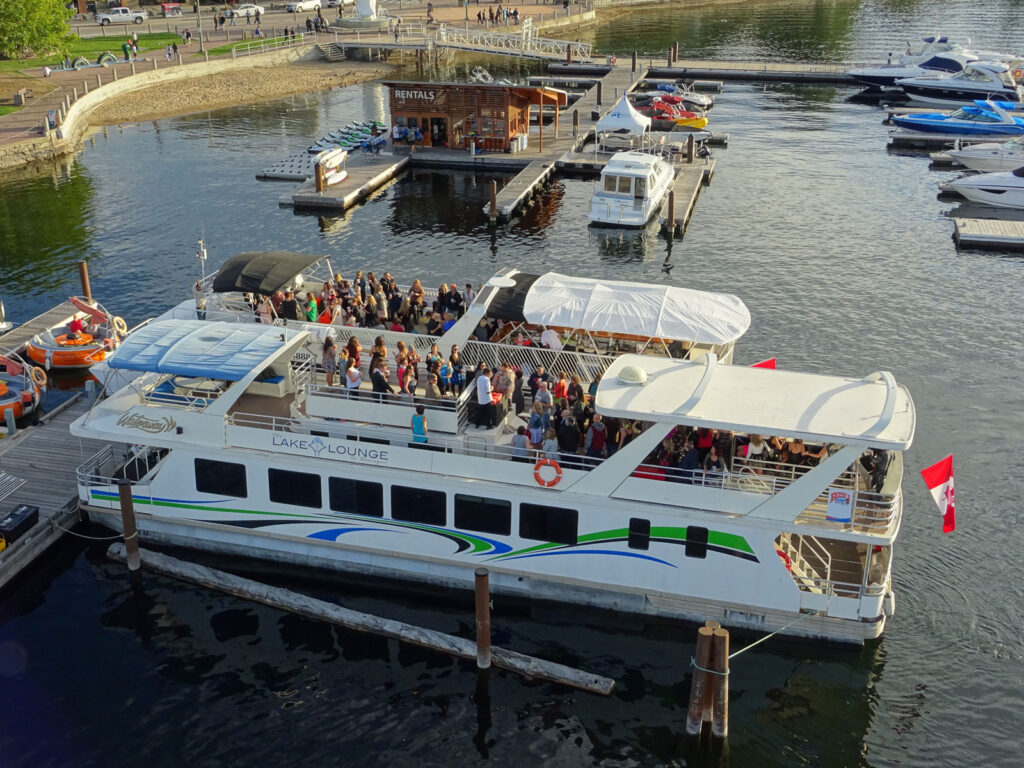 Built: 2005

Originally Name(s): The Iristani Princess, The Okanagan Princess

Fully licensed, upper deack bar

Lower deck enclosed seating: Approx 30

4.3 litre Mercruiser Motor

16 Kw Westerbeke Generator
The Boardroom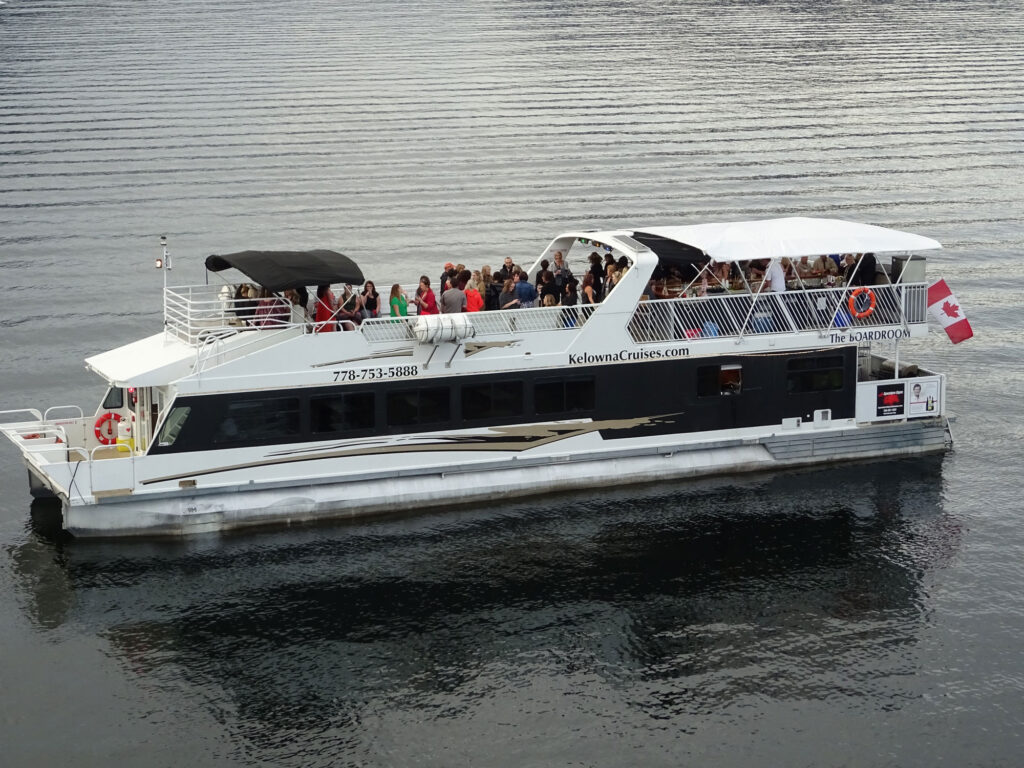 Fully licensed, upper deack bar

Lower deck enclosed seating: Approx 48

4.3 litre Mercruiser Motor

12 Kw Westerbeke Generator
Don't Just Take Our Word For It…
See What People Are Saying!
☆☆☆☆☆Went on the 12:30 - 2pm Cruise on Canada 🇨🇦 Day...We had lunch of Beef & Chicken burgers with Salad & all the fixings! Buy your beverages with Music 🎶 and beautiful weather and fantastic views on Lake Okanagan...Staff Mel & Captain Cody 😁😊 !☆☆☆☆☆
Melissa "Melissa-Elizabeth"

The sunset dinner cruise was the ultimate highlight and the most perfectly relaxing thing to do on our final night of our trip to Kelowna. The crew were fantastic. The weather was fabulous. The entertainment was top class. And the food was amazing. Highly recommended.
Tara Carroll

Great experience! Staff was very friendly and accommodating a must do when visiting town.
Deejay C